While You Were Sleeping - Social Media and Marketing News
Want to know what's been happening in social media and marketing news?
Celebrities are on the front page of tech news today with one famous endorser losing the plot on stage and others throwing sums of money at a Twitter co-founder's latest product. In other news, Apple have confirmed the acquisition of an Australian man's app.
Who the hell is Michael Bay?
U.S film director and producer Michael Bay has managed to embarrass himself at the CES (Consumer Electronics Show) in Vegas after fleeing from the stage during his endorsement of Samsung's TV launch.
You'd be forgiven for not knowing who Michael Bay was but, as one of the highest grossing US directors of all time, it's likely you've seen one or two of his movies.
The oft-parodied, big-budget blowouts, which are cringeworthy at the best of the times and nausea inducing at their worst, include the Transformers saga, Bad Boys and Pearl Harbor.
Bay sulked off the stage after an autocue glitch that saw him fumbling around for the right words. To be fair, Bay was being asked to position himself in the place of viewers watching his movies.
The saving grace of the mini-breakdown? Samsung's executive VP for the U.S, Joe Stinziano, comes out looking like the kind of guy you'd like to have a beer with. "Okay, ladies and gentleman lets thank Michael Bay for joining us," said Stinziano with classic straight man wit.
So as not to be completely biased we should report that Bay has been rather gracious following the stuff up. Taking to his blog, Bay wrote: "I was about to speak for Samsung for this awesome Curved 105-inch UHD TV. I rarely lend my name to any products, but this one is just stellar. I got so excited to talk, that I skipped over the Exec VP's intro line and then the teleprompter got lost. Then the prompter went up and down – then I walked off. I guess live shows aren't my thing."
Apple acquires Melbourne man's camera app.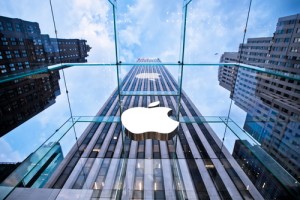 Andrey Bayda / Shutterstock.com
Apple has recently acquired one Aussie entrepreneur's app. The piece of genius tech, turns any iPhone 5 into a camera capable of shooting 20 high-quality photos in one second. The terms of the deal are still unknown, but the acquisition was confirmed after the SnappyCam app was pulled from the Apple app store and in an interview with an Apple spokeswoman in The Wall Street Journal. Apple tend to spend big bucks when purchasing apps so it's no wonder that SnappyCam's founder, John Papandriopoulos, was celebrating with a beer in Byron Bay according to Twitter.
Al Gore and Bono walk into a bar... invest in a clandestine startup along with a bunch of other rich people.
Twitter co-creator, Biz Stone, has a new project called "Jelly" that no one really knows anything about other than lots of rich people are digging deep into their pockets to give it a helping hand. The list of big-wig names was included in a post on it's blog that encompasses four paragraphs without actually conveying any information beyond a) "A group of jellies is called a bloom"; and b) The team at Jelly are "proud to announce a group of committed individual investors who share our optimistic worldview".
The blog titled, "Business is Blooming" states the following are joining its esoteric ranks:
Jack Dorsey, Co-founder and CEO of Square
Bono, Musician and Activist
Reid Hoffman with the Greylock Discovery Fund
Steven Johnson, Author and Entrepreneur
Evan Williams and Jason Goldman via Obvious
Al Gore, Politician, Philanthropist, Nobel Laureate
Greg Yaitanes, Emmy Winning Director
Roya Mahboob, Afghan Entrepreneur and Businesswoman
The "product" is still in prototype so essentially not even those investing in it really know what it is. It would seem it has something to do with connectivity and the centralisation of mobile devices to our lives by the statement: "As mobile devices have taken an increasingly central role in our lives, humanity has grown more connected than ever—herein lies massive opportunity." So it's… your guess is as good as mine. Interestingly enough, the blog does refer to Al Gore as an "angel." Perhaps, like a knife through jelly, we'll be penetrating planes of existence in the future.